This article explores the Thorium browser, its performance tests using various methods and features, and the developer's customizations, including installation steps on your favorite Linux distribution.
If you're solely interested in learning Thorium's installation steps, check out this section.
I was having a great day with my colleague, talking about the future of foss and AI, and suddenly the following video appeared in both of our YouTube feeds.
The Best Web Browser
TBH, me and a few of my colleagues know this browser from way back when it was using the unstable branch of Chromium (now it uses the stable branch). So, the question is why this browser never came to the spotlight, and is it the best browser after all?
Let's find out in this article. You just have to promise to read the entire article.
Thorium: The Fastest Browser on Earth?
If you're questioning whether Thorium is the name of the radioactive element, your guess is correct, as developer Alexander David Frick directly stated it on the project homepage.

The Thorium browser is a fork of Chromium with some modifications to make it faster than the vanilla browser and exceptionally faster on lower-end PCs, which is what Chrome is infamous for.
If you are a developer, you might know that Chromium is an open source project by Google that aims to provide a safer, faster, and more stable way for all users to experience the web, but it's not that optimized, especially for performance.
Many other browsers, like Vivaldi, Brave, or Microsoft Edge, are built on the Chromium code and use their own modifications and scripts to optimize their browser in their own way.
The only difference between Thorium and other browsers lies in its single, dedicated, and relatively unrecognized developer, a true geek steering the project.
Now, let's check the modifications the developer implemented in this browser that earned its reputation as the fastest (privacy-focused) option among the notorious browsers.
Performance Test and Features of the Thorium Browser
First, the developer promised an 8–38% performance increase over the vanilla Chromium. I tried it on two different systems: my old potato PC running on Linux Mint and my full-fledged gaming PC running on Windows 11 and Ubuntu (yes, I dual-boot 🥲).
To begin, I perform and share with you the picture of all the performance tests done by the developer itself.
Performance Test Done by Speedometer
The speedometer benchmark tool can check performance comparisons and measure web application responsiveness through demo web applications simulating user actions, like adding to-do items.
The following test is done for thorium in comparison to chromium on my potato PC running on 4GB of RAM with an Intel i3 processor and Linux Mint.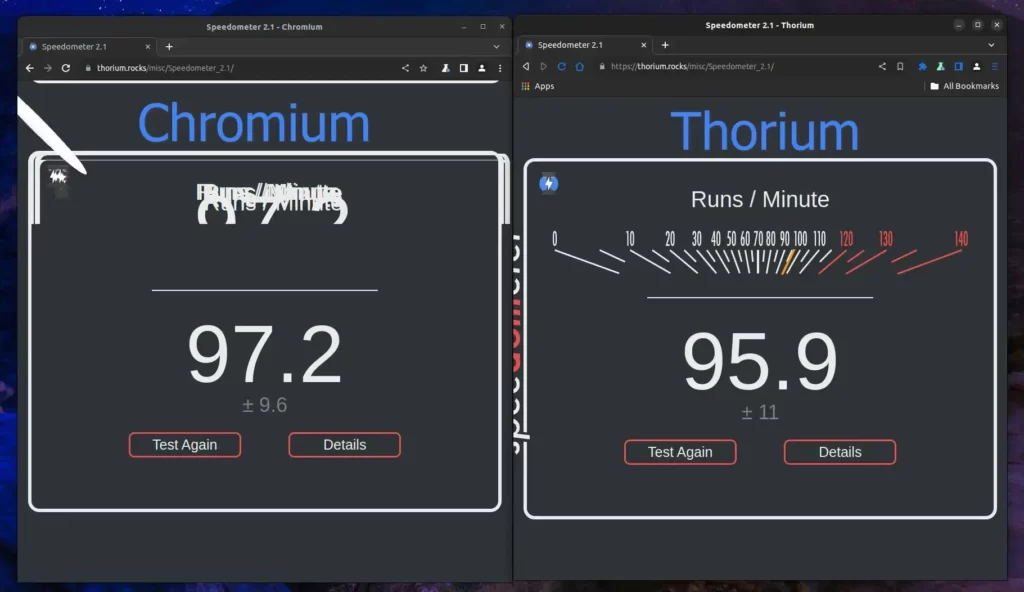 As you can see, the score for Thorium is slightly lower than that for Chromium, which is bad, but for a broader perspective, I've tested it with Google Chrome and Firefox, and let's see their results.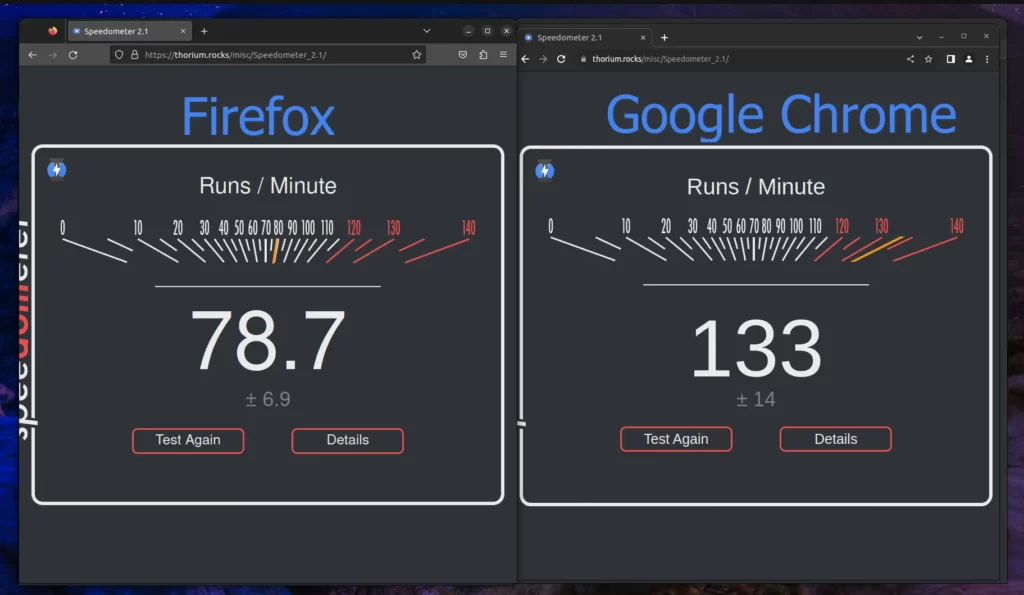 If you look at the test done for Firefox (running on Flatpak), the result is 78, which is quite low, and that's also bad, but for Google Chrome, it is extremely high compared to Chromium and Thorium.
So, it is questionable how the developer claimed that the browser could provide a speed increase of 8-38% when the benchmarks did not show those results.
⚠️
Don't be influenced by the Firefox results, as it is completely built on different browser engines, and people who are looking for Thorium would be the ones who want a faster browser running on the Chrome engine.
However, let's perform another test with JetStream2, and let's check its result.
Performance Test Done by JetStream2
JetStream2 is a benchmarking tool with JavaScript and WebAssembly that focuses on the most cutting-edge web applications.
It performs various tests to measure different types of performance criteria, like distinct workloads, starting up quickly, executing code quickly, and more, which you can check out here.
So, let's begin our test with thorium in comparison to chromium on my same previous potato PC running on 4GB of RAM with an Intel i3 processor and Linux Mint.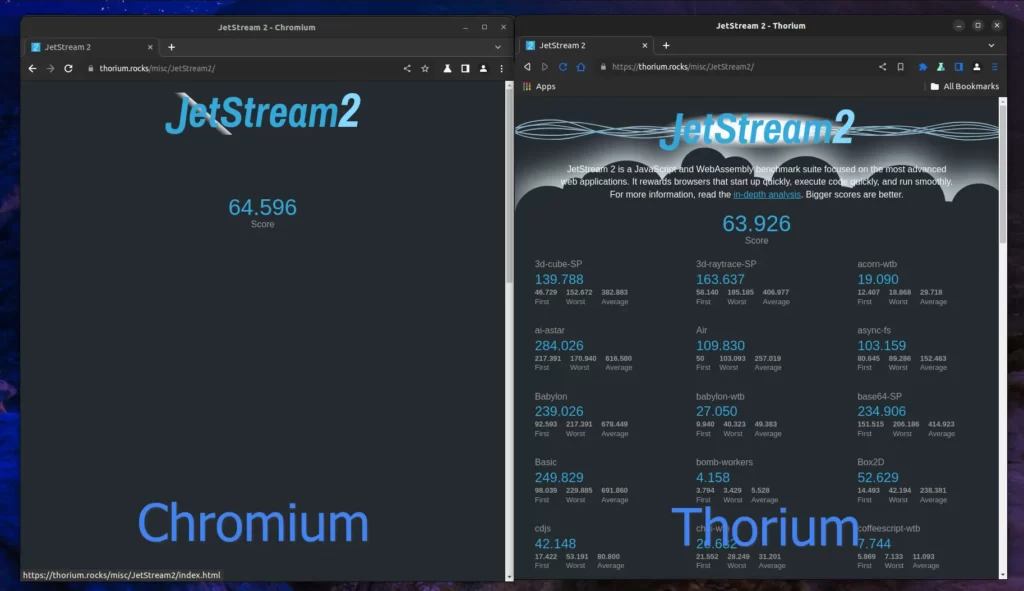 Again, Chromium slightly outperforms Thorium, but let's test the results of Google Chrome and Firefox.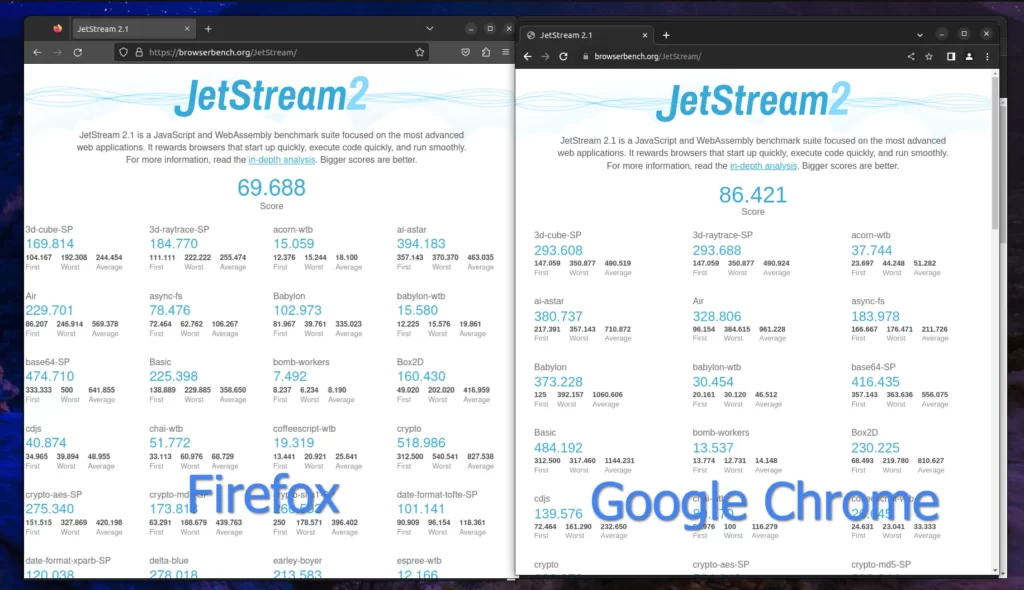 Once again, Google Chrome scored high this time, similar to the previous test, making it confusing whether Thorium is the faster browser.
📝
Each test was performed multiple times on various types of systems, and each time, Google Chrome scored a high number. In the future, if different results occur, the article will be updated accordingly.
So, it's clear that Thorium currently does not hold the crown for the fastest browser on the market. However, before we make our decision, let's check the launch times of the browsers mentioned above using the time command on the same potato PC.
$ time thorium-browser
real		0m1.026s
user	0m0.907s
sys		0m0.628s

$ time chromium-browser
real		0m1.746s
user	0m1.041s
sys		0m0.732s

$ time firefox
real		0m3.924s
user	0m1.702s
sys		0m1.539s

$ time google-chrome
real		0m1.918s
user	0m0.939s
sys		0m0.645s
Here, Thorium proved to be the quickest browser at launch, taking only 1.026 seconds. Please keep in mind that the results displayed here may vary depending on your system specifications and internet connection.
If you seek the fastest privacy-oriented browser running on the Chromium engine, Thorium should unquestionably be your choice, as it is not that fast but faster than the browser, offering privacy and speed.
📝
If you're considering a replacement for your current Firefox browser, I suggest exploring the
Mercury Browser
, which is optimized with Firefox code by the same developer.
But what makes it a truly privacy-oriented browser? This can only be determined by examining the features or optimizations implemented by the developer in the following section.
Features of the Thorium Browser
The browser's key highlights were explicitly listed by the developer on the homepage.
Compiler optimizations include SSE4.2, AVX, AES, and adjustments to CFLAGS, LDFLAGS, thinLTO flags, import_instr_limit flags, PGO, and various other compiler flags within the same line.
LLVM LOOP optimizations through the -mllvm flags.
UI modifications and updates for Linux and Windows, addressing bugs, improving usability, and bolstering privacy and security in a single line.
To check for more in-depth patches or improvements made to this browser by the developer, check out this GitHub patches page. I've noted below what interests me more, but it's just a quick mention.
Enable JPEG XL Image File Format by Default Patch
Enable Live Caption (SODA) on all builds of Patch
V8 Font Rendering Patch
Intel HD Support Patch
Audio Sandbox Patch
DoH Secure Mode Patch
DoH Bare Minimum HTTP Headers Patch
Enable Do Not Track By Default Patch
Chromium Sandbox Patch (enables PIE)
Widevine CDM CU Patch
Enable Parallel Downloading by Default Patch
Allow all HEVC video profiles to play the patch
Enable multi-threaded HEVC decoding
The list continues, so please refer to the previous page for further details. Now, let's see how you can install Thorium on your preferred Linux distribution.
How to Install Thorium on Linux
If you are using a Debian-based distribution like Ubuntu, Linux Mint, Pop!_OS, Elementary OS, Kali Linux, or any distribution that supports ".deb" packages, then simply add the Thorium repository and install it by running:
$ wget https://dl.thorium.rocks/debian/dists/stable/thorium.list
$ sudo mv thorium.list /etc/apt/sources.list.d/
$ sudo apt update && sudo apt install thorium-browser -y
Alternatively, you can also install thorium via the ".deb" package or the ".rpm" package for RHEL, Fedora, CentOS, Alma Linux, etc. by downloading the package from the GitHub release page.

After downloading, go to the download directory (assuming "~/Downloads/") and run the appropriate command for your distribution to begin the installation process.
$ cd ~/Downloads/
$ sudo dpkg -i thorium-browser_*_amd64.deb                                         #For Debian-based distro's
$ sudo rpm -i  thorium-browser_*.x86_64.rpm                                          #For RHEL-based distro's
Alternatively, you can download the Thorium AppImage and easily access it without any installation, similar to a portable application.
If you are using an Arch-based distribution such as Manjaro, EndeavourOS, or Garuda Linux, you can access Thorium via the AppImage or install it through AUR using helpers like Yay.
$ yay -S thorium-browser-bin
After the installation, you can find it in your application menu and launch the Thorium browser from there.
💡
If you're wondering what a thorium shell is, consider it a lighter (or minimalistic) version of thorium.

Begin your browsing journey with the Thorium browser from here.
Now, let's explore some recommended extensions that I suggest you install after installing this browser to improve your experience.
Recommended Extension by Me
The following is the list of extensions recommended by me and made by the same Thorium developer, starting with
How to Update Thorium on Linux
The update process is quite simple and follows the same method as other Chromium browsers for in-app features, ensuring automatic background updates.
Alternatively, you can initiate an update for your system using the default package manager or go to the browser settings and, under the update section, check for the latest update.
How to Remove Thorium from Linux
The removal steps are quite easy and straightforward, so if you have installed it via the package manager, simply execute one of the provided commands based on your Linux distribution.
$ sudo apt remove thorium-browser                                                       #For Debian, Ubuntu, Pop!_OS, Linux Mint, etc.
$ sudo dnf remove thorium-browser                                                       #For RHEL, Fedora, Alma Linux, etc.
$ yay -R thorium-browser-bin                                                                   #For Arch, Manjaro, etc.
Remove the AppImage from your system if you are using it, and you're done.
Final Word
It's an amazing browser and currently my default choice, but please note that it's not a specialized browser designed to provide complete anonymity on the internet and is not faster than the Google browser; however, the performance may vary depending on the system.
If you are ready to sacrifice performance and browsing speed, then do check out our article on Tor Browser or Mullvad Browser, as they are more privacy-oriented browsers.
If you have any questions or queries, do let us know in the comment section.
Till then, peace!